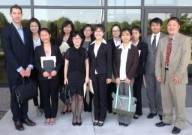 Coming to the U.S. Market?

Are you considering launching your overseas-based company in the U.S.? Here's why you should consider Richardson as your U.S. business headquarters.

The state of Texas Legislature has proclaimed Richardson the "International Business Capital of North Texas." Known as The Telecom Corridor®, Richardson is a premier center of diverse global technology-based companies.

International Concierge Services – Choose resources based on your needs

To help non-U.S. companies establish their business in the U.S. and specifically Richardson, the Richardson Chamber of Commerce has created a unique program providing expert resources to ease critical business startup issues. Resources provided by member companies and consultants include:

• Legal assistance (incorporation; immigration/visas; intellectual property; etc)
• International banking (setting up accounts / letters of credit /currency exchanges)
• Translation services
• Logistics / transportation services
• International business consulting
• Import/export assistance (export licensing etc.)
• Public relations services
• Specific country importation knowledge
• Relocation services
• Commercial and residential real estate services
• HR/staffing
• Marketing, sales, business development, management consulting
• Inexpensive "soft landing" office space


We're ready to help you enter the U.S. market quickly and easily. Let us know how we can help your business succeed!


Going global
If you are looking to grow your export business internationally, the Richardson Chamber of Commerce is standing by to help. Read about our latest program to promote global business.


Export / Small Business Concierge Services
The Richardson Chamber of Commerce has created a unique program providing expert resources to assist our members with exporting information and services provided by partners, member companies and consultants that include:
• Certificates of Origin
• Export workshops with
U.S. Department of Commerce
U.S. Commercial Service experts
North Texas Export Council
• Legal referrals for IP / licensing assistance
• Bank referrals for letters of credit assistance and international banking
• Logistics referrals
• Translation assistance referrals
• SBA S.C.O.R.E. services
• Overseas introductions
Local international chambers of commerce referrals
Consulates and embassy referrals
Overseas trade associations referrals

If you are a local provider of export assistance services and wish to participate in the Concierge Service Program, please contact us to sign up.



We're here to help make exporting easy, and small businesses succeed. Contact
Mike Skelton
at 972-792-2814.
Here's what Richardson can offer you:
Business-friendly environment
• 10,000+ corporate headquarters within 50-mile radius
• 44 Fortune 500 headquarters within 50-mile radius
• State economic development incentives
• Local economic development incentives
• Five-star rated Chamber of Commerce
Central location from which to branch out
• Central U.S. time zone
• DFW International Airport – reach any major North American city within 3-4 hours
• Richardson's major highways and light rail--easy access to all of DFW Metroplex
Support system for international transplants
• Highly educated work force
• Extensive wireless and fiber optic communications network
• Metropolitan Area Network (MAE) / Network Access Point (NAP)
• University of Texas at Dallas – highly rated research university
• 20+ International Chambers of Commerce serve DFW
Deep roots in technology
• Richardson is the hub of the Telecom Corridor®
• With its long technology history, Richardson has developed the infrastructure and highly trained, technical workforce workforce
• 600+ high tech firms
Telecommunications
Semiconductors
Software
Computer / online gaming
Cloud computing
Data centers
Nanotechnology
Power conversion technology
Medical devices
Defense contracting
RFID
ICT (information and communication technologies)