Learn from past presentations
If you are a member of the Richardson Chamber, you have access to some of our events that have been recorded, particularly virtual events during the covid pandemic.
To access the library, you'll need the members-only password.
To access the link and password, log onto the members section of this website, and navigate to the 'Resources' tab toward the top of the Member Information Center.
Not a member? Join us!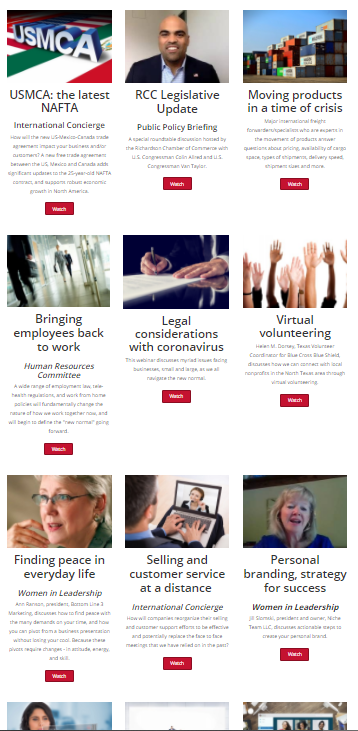 Podcast
Hear success tips from Richardson's business community, including business leaders and government officials. Includes audio from chamber events.
Executive blog
Hear from local Richardson executives with practical advice about how to succeed in your business.
Force majeure clauses (unforeseeable circumstances that prevent someone from fulfilling a contract)
Debt management, Federal Covid-19 legislation, Shelter-in-place/stay at home orders.
Read your contracts; Check with your attorneys earlier rather than later; Communicate with your lenders, vendors and clients; Determine if you qualify for federal stimulus tools; Get all agreements in writing.
WIL: Finding peace in everyday life
Ann Ranson, president, Bottom Line 3 Marketing, talked about finding peace in everyday life. Sponsored by Methodist Richardson Medical Center. Where do you find balance when life is coming at you so fast and from so many directions? Change is inevitable and it's happening all around you, so even though it seems to be happening outside of you, riding the wave of change is really an inside job. In this program, we'll explore how to find peace with the many demands on your time, and how you can pivot from a business presentation to Girl Scouts to home maintenance, without losing your cool. Because these pivots require changes - in attitude, energy, and skill - you'll want to attend and take away specific ideas and tools that you can use when life feels unmanageable.
HR Committee: Corporate culture, What makes a great place to work
What does it take to be on the Dallas Business Journal's list of the best places to work in North Texas? What is the corporate culture that allows organizations to attract and maintain the best talent?
Rob Schneider, managing editor, Dallas Business Journal
Featuring these Best Places to Work Winners 2018:
Jorge Corral, managing director, Accenture Dallas
Brent Harrolle, executive VP, All Medical Personnel
Buck Jones, CEO, Pegasus Technology
WIL Managing Change
Gabrielle Madison, Thomson Reuters
A fireside chat with Gabrielle Madison, director of community relations, Thomson Reuters, moderated by Anna Butler, managing editor, Dallas Business Journal
This compelling discussion with two successful businesswomen will demonstrate that it is the quality time you spend with valued friends and family that can make a difference in maintaining your work-life balance when inevitable change comes your way.
2019 Richardson Chamber Goals
Chairman Kory Aoyama
Kory talks about the East Arapaho Innovation District, activities within education like iDream Day and the Mayor's Summer Internship Program and filling more of the Class A and B space.
State of the State
Texas Governor Greg Abbott
Given during the 2019 Annual Meeting, Gov. Abbott talks about the importance of education, increasing pay for teachers and keeping property taxes low.
Market research
David Slatter, president, ExperiPro
Imagine how much more effective your sales initiatives could be when you really know who your customers are, and why they buy from you (or not), and if you understood who you are competing against and what sets you apart from the pack. This program provides practical advice about how and when to use research, what types of research work best in given situations, and tips & tricks to avoid the most common pitfalls.
Higher education unplugged
Dr. Richard Benson, president, UT Dallas, and Dr. Joe May, chancellor, DCCCD
Conversations cover challenges with funding, effectively managing growth and the challenges of educating our nation's future workforce.
Why join the Chamber
Hear from various Richardson leaders about what the Richardson Chamber does for business and community. Includes City Manager Dan Johnson, RISD Superintendent Dr. Jeannie Stone, Leadership Richardson Kim Quirk, Alamo Drafthouse's Bill DiGaetano, Texas Instruments' Kent Novak, Gabriela Smith, and Richardson Chamber CEO Bill Sproull.
Online marketing
Joe Constantino, founder and CEO, Einstein's Eyes; Colin Hayes, sr. enterprise account executive, Belo + Company; Tom Gildersleeve, principal, TNT Dental. Almost all small- and medium-sized businesses have some form of digital outreach, but having an online marketing system that gets a head-up on the competition is a challenge Presentation begins at 3:30. Paid advertising, 19:00 SMS texting and apps. 26:00 questions to ask your marketing vendor 28:30 AI. Develop your brand story.
Practical cybersecurity for businesses
Shawn E Tuma guides businesses with a 10 point checklist of why and how to protect their data and systems. Contact Shawn at www.shawnetuma.com
Tax change implications
Local tax experts focus on what the changes in the new Tax Cuts and Jobs Act passed in December really means for business. Panelists also address how those changes are forcing some businesses to make "choice of entity" decisions and what this means for international business. • Chris Luna, VP and general counsel, MetroPCS • Michael Threet, tax attorney with Haynes & Boone • Robert Smith, international tax consultant with Saville, Dodgen & Company
Succession planning
Finance chair Adam Keller of Atlas Wealth Advisors talks about how small business owners can make sure their valuable businesses are in the right shape to either be handed over or at max value to be sold when the time is right.