Events hit high points with topics, attendance and high-profile speakers
Our Annual Meeting has featured household names like President George W. Bush, Mark Cuban, Governors Rick Perry and Greg Abbott, and U.S. Senators John Cornyn and Ted Cruz.
The EDGE awards honor outstanding Richardson-area businesses and organizations for their many contributions to the economic vitality and community involvement in the City of Richardson.
Visit our calendar to find out what events are coming this month!
Richardson Chamber Annual Meeting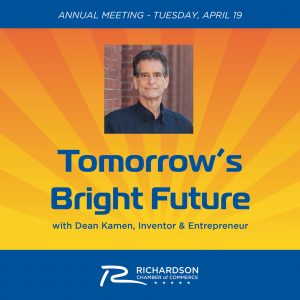 The Annual Meeting is the Chamber's opportunity to share our successes from the previous year, while recognizing and thanking our members for their role in those successes. We announce the Richardson Citizen of the Year as well our Volunteer Awards.
This year we hosted Dean Kamen as our keynote speaker.  Dean is a renowned inventor and advocate for science.
Our 2021 Richardson Citizen of the Year is Dan Johnson, former Richardson City Manager.  Our Volunteer Awards were announced as follows:
Small Business of the Year - Lockwood Distilling
Ambassador of the Year - Roni Carrasco, City of Richardson
Committee of the Year - Education and Workforce, Beth Brown, Debbi Richards and Suzanne Williamson, tri-chairs
Newcomer of the Year - Ashley Hust
Volunteer of the Year - Dr. Kay Eggleston, Dallas College at Richland
Chairman's Award - Raul Hinojosa
Click here for our 2021 Annual Report
Click here for more information on the Citizen of the Year 1965 - 2021