Alerts Archive
Legislative alerts go out on Friday each week during the Texas Legislative Session. Jump to past legislative alerts below:
Stay up-to-date
Sign up for legislative alerts to receive weekly updates during the Texas legislative session.
For more information about Legislative Day and the Chamber's other public affairs events, contact Molly Ulmer at (972) 792-2811 or molly@richardsonchamber.com.
Who Represents You?
Do you know who represents your district? Find out who your elected officials are at the link below!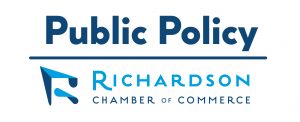 Legislative Alert: August 18, 2017  
House members voted to end the special session early on Tuesday night, a few hours before Senators also decided it was time to return home. Both chambers passed some of Governor Greg Abbott's priorities, including bills on school finance and municipal annexation, but failed to address other priority measures such as property tax reform and the bathroom bill.
House Speaker Joe Straus commended representatives' work during the special session: "The House was thoughtful, respectful and decisive in its solution-oriented approach." After both chambers adjourned on Tuesday, Gov. Greg Abbott expressed disappointment in the failure to pass legislation on all twenty of his items. "There is a deep divide between the House and Senate on these important issues," he said. "I'm going to be making decisions later on about whether we call another special session."
Special session priorities that passed:
Sunset legislation to extend the Texas Medical Board and behavioral health licensing agency, Senate Bills 20 and 60 by Sen. Van Taylor (R-Plano);
Establishing a statewide commission to recommend public school funding improvements, as well as minor changes to school finance formulas, extending Additional State Aid for Tax Reduction (ASATR), increased funding for the Teacher Retirement System and healthcare (TRS-Care), and increased funding for children with dyslexia and autism, House Bills 21 and 30;
Municipal annexation reform, Senate Bill 6;
Restricting local regulation of tree removal on private land, House Bill 7;
Harsher criminal penalties for mail-in voter ballot fraud, Senate Bill 5; and
Prohibiting health insurance plan coverage for elective abortions, requiring additional reporting on abortion complications and abortions provided to minors, bolstering protections on in-hospital do-not-resuscitate orders, and extending the Maternal Mortality and Morbidity Task Force.
Special session priorities that failed:
Property tax reform, Senate Bill 1;
Regulation of multi-occupancy showers, locker rooms, restrooms and changing rooms at public facilities or the "Bathroom Bill," Senate Bill 3;
Teacher pay increases;
Expedited local permitting processes;
Caps on state and local spending, as well as restricting local governments from changing rules midway through construction projects;
Separate vouchers for children with special needs;
Banning texting-while-driving regulations in cities;
Prohibiting public entities from collecting union dues; and
Prohibiting local taxpayer funding for abortion providers.
Keep reading to find out more about the priorities that impact Richardson businesses and residents. Stay tuned for a more thorough legislative update covering bills that were passed and will be on your ballot in November.
School finance reform and funding
Both chambers agreed on a bill addressing school finance before the end of the session, but only after removing the most impactful components of the legislation. The original version of House Bill 21 would have provided an additional $1.9 billion to public schools, increased the per-student allotment from $5,140 to $5,350, provided $25 million in facilities funding for charter schools and $75 million for fast-growing districts, expanded high school career and technology funding to eighth grade, and provided $200 million in hardship grants to school districts scheduled to lose Additional State Aid for Tax Reduction (ASATR) funding.
The full Senate removed most of those provisions, so that the bill is unlikely to have a significant impact on property taxes. The final version of HB 21 will provide $351 million to small, rural schools and students with autism or dyslexia, insert $212 million into a healthcare program for retired teachers, and provide $120 million for new facilities. Both chambers also passed House Bill 30, which would immediately fund HB 21 by deferring $563 million for health care companies that provide Medicaid.
Bathroom Bill
One of the regular and special sessions' most loudly opposed bill, Senate Bill 3 or the Bathroom Bill, was never referred to a House committee by Speaker Joe Straus after being passed by the Senate. SB 3 would have required occupants of public buildings to use only bathrooms and changing rooms that matched the gender listed on their birth certificate. While limited to public facilities and therefore more restrictive than the North Carolina bill, SB 3 was strongly opposed as harmful to Texans and the Texas business community. Tech Titans, Dallas CEO's, Texas investment groups and technology companies including Apple and Google testified against the Lieutenant Governor's priority legislation.
Property tax reform
The House and Senate took different approaches to reducing the property tax burden in Texas. Representatives argued that reforming school finance laws would be most effective, as local school districts have the greatest influence on property tax rates and the state's share of public education funding has been declining for years. Senators argued that Texans do not have enough of a voice in deciding property tax rates, and that the process lacks transparency.
The Texas Property Tax Reform and Relief Act of 2017, Senate Bill 1, died when the House adjourned Sine Die following unsuccessful efforts by the bill's House sponsor and Ways and Means Committee Chairman Dennis Bonnen (R-Angleton) to negotiate a compromise with the Senate sponsor, Sen. Paul Bettencourt (R-Houston). Senators rejected the lower chamber's changes to the bill, including a 6 percent rollback tax rate and additional transparency measures, such as requiring cities to notify residents of any changes in property tax rates and explain how the complicated property tax system affects their individual bills. The House's school finance bill, House Bill 21, eventually passed, but with revisions that make it unlikely to lower your property tax bill.
Local control
Senate Bill 6, the Texas Annexation Right to Vote Act, will subject municipalities in counties with populations above 500,000 to new annexation requirements including residents' vote of approval. SB 6 was signed by the governor and will take effect on Dec. 1, 2017.
Several of the governor's remaining goals to restrict local control failed to advance, including legislation that would have set caps on increases in local spending and banned texting-while-driving regulations. House Bill 62, passed during the regular session, prohibits texting while driving unless the motor vehicle is stopped and goes into effect Sep. 1, 2017.
See the Texas Legislature Online's website reports for a complete list of laws from the regular session that will go into effect on immediately, in two weeks (Sep. 1) or later, as well as special session bills that are headed to the governor.
---
Legislative Alert: August 11, 2017  
With the end of the special session fast approaching, no bills have reached Governor Greg Abbott's desk. The end of the session will be on day 30 next Wednesday, Aug. 16.
Today, the House is expected to give final passage to sunset legislation to keep several state agencies alive. With less than a week remaining, lawmakers are not optimistic that all of Governor Abbott's twenty priorities will be addressed.
Updates
House Bills 21 and 30, which would appropriate an additional $1.8 billion into Texas public schools, was passed by the lower chamber and sent to the Senate. HB 21 would increase the per-student allotment and make other changes to school finance formulas intended to increase public education funding. HB 30 would enable the $1.8 billion transfer. Representatives voted against House Bill 22, which would have extended Additional State Aid for Tax Reduction (ASATR) for schools another two years. The Senate Education Committee will consider HB 21 in their meeting today, but chairman Sen. Larry Taylor has stated he would not accept a House proposal to put $1.8 billion into public schools.
Several other education bills advanced this week. Senate Bill 2, which would create school vouchers for children with disabilities, was approved by the House Public Education Committee and sent to the full House. Senate Bill 16 would establish a commission to study school finance in Texas and make recommendations to the legislature. The House Public Education Committee also approved House Bill 198 to require schools to raise the average pay of classroom teachers, as well as create teacher designations, teacher retention and a teacher quality allotment from the Foundation School Fund.
Senate Bill 1, which would require tax ratification elections above a rollback property tax rate of 6 percent among other reforms, is scheduled for a vote by the full House on Saturday.
A new report by the Texas Taxpayers and Research Association (TTARA), a respected business-backed association that follows fiscal issues, estimates the cost of budget deferrals at $7.9 billion that will the 2018-19 legislature will need to address.
Senate Bill 6 for municipal annexation reform will be heard again by the full House today after being returned to the committee for revisions. SB 6 would subject municipalities in counties with populations above 500,000 to new annexation requirements. A top United States Air Force Commander in San Antonio weighed in on the push for annexation reform in Texas , stating, "I am concerned that it may affect compatible land use and encroachment prevention efforts already underway at AETC's installations in Texas, especially Joint Base San Antonio."
---
Legislative Alert: August 4, 2017  
Senators continue to outpace representatives in advancing Governor Abbott's priorities during the special session, although House committees have begun to take up more of the governor's priority legislation. Both chambers approved several education and property tax reform bills, and discussed bills aimed at limiting local control.
Educations bills make progress in the lower chamber
The House Public Education Committee approved House Bill 21, a reboot of the school finance reform bill that died during the regular session. HB 21 would make several changes to the school finance system, including:
Provide an additional $1.9 billion to public schools;
Increase the per-student allotment from $5,140 to $5,350;
Decrease recapture by $389 million;
Provide $25 million in facilities funding for charter schools and $75 million in facilities funding for fast-growth school districts;
Provide $200 million in hardship grants to school districts scheduled to lose Additional State Aid for Tax Reduction (ASATR) funding in September 2017; and,
Expand high school career and technology education (CTE) funding to eighth grade students.
On Wednesday HB 21 received preliminary approved by representatives, along with House Bills 22 and 30. House Bill 22 would delay the expiration of payments from Additional State Aid for Tax Reduction (ASATR) from this September to September 2019. ASATR was established by the Legislature in when lawmakers reduced property taxes, the primary source of funding for Texas public schools, by one-third, in 2006. House Bill 30 would increase the basic allotment per student to $5,350, as well as provide $30 million to cover children with disabilities. HB 30 is contingent on the passage of HB 21. All three bills are scheduled for final vote today in the lower chamber.
Governor Abbott's priority to increase teacher salaries and improve benefits for active and retired educators has made progress. House Bill 24, which would increase the minimum salary schedule for teachers as well as full-time school librarians, counselors and nurses, has been approved by the House Appropriations Committee after initially being left pending.
Both chambers approved bills that would make a one-time transfer of $212 million into the Teacher Retirement System's health care program (TRS-care). House Bill 20 would withdraw the influx from the state's Economic Stabilization Fund (ESF, as known as the state's Rainy Day Fund), while Senate Bill 19 would use an accounting maneuver that involves delaying payments until another fiscal year. Both plans would cut deductibles in half and reduce premiums for some retirees. Senate Bill 19, which would also provide an annual bonus for classroom teachers with at least six years of experience, was referred to the House Appropriations Committee.
Speaker Joe Straus referred other bills related to the governor's education priorities, Senate Bills 2 and 16, to the House Public Education Committee. Senate Bill 2 would establish private school vouchers for children with disabilities, and Senate Bill 16 would establish a state commission to study and make recommendations for Texas' school finance system.
Patrick asks for more dialogue, Abbott meets with Mayors
Lieutenant Governor Dan Patrick called for better communication with Speaker Joe Straus at the halfway point of the special session, stating in an interview with a conservative group, "we have no communication with the House." A spokesperson replied in a statement that the Speaker's "door is always open." Of the difficulty in negotiating with the upper chamber, the Speaker said to KUT, "I try to encourage cooperation. I try to encourage bipartisanship. I know that's not a very fashionable thing today."
After initially excluding mayors of the largest Texas cities from his meetings with city leaders, Governor Abbott also invited Mayor Mike Rawlings of Dallas and Mayor Betsy Price of Fort Worth to share their concerns about legislation including the rollback rate for local property taxes. Texas mayors have said such reductions could hamper their cities' ability to fund essential services like police and fire departments.
Property taxes
Property taxes remain the primary source of local government funding in Texas. As the state's share of public education funding has declined, local school districts have raised property taxes to makeup the difference. According the Legislative Budget Board, the state's share of the cost of public education has declined from 45 percent to 38 percent in the past decade.
Lieutenant Governor Dan Patrick declared reducing property, or ad valorem, taxes his priority during the regular and special sessions, though an effort to increase state contributions to Texas schools did not make significant headway last Spring in the Senate. Governor Abbott said in an op-ed for the Houston Chronicle, ""No government should be able to tax people out of their homes. We must remember: Homeowners are not renting their land from the city." Several bills aimed at reducing residential property taxes advanced this week in both chambers.
Senate Bill 1 would make several property tax reforms for local taxing units who collect more than $10 million in property tax revenue, including:
Lower the rollback rate for property taxes, or the rate at which a Texan can petition for an election challenging the rate, from an 8 percent to a 4 percent increase;
Require an automatic tax ratification election if the rollback rate is exceeded;
Increase access to tax rate information by property owners by creating an online "real-time tax rate notice" that will display the taxing unit of each property, the proposed tax rate, the equivalent tax rate and the rollback tax rate; and,
Require taxing units to send a notice that contains several property tax statistics as well as stating whether a tax increase has reached the rollback rate.
The Senate passed SB 1 with several amendments, and the House Ways & Means Committee also posted a revised version of the bill. Among other changes, the revised version sets the rollback rate at 6 percent instead of 4 percent.
Other bills addressing ad valorem taxes include House Bill 4, which would also reduce the rollback rate to 6 percent; House Bill 168, passed by the House Ways & Means Committee, which would set the rollback rate of a school district at the higher of (i) the highest tax rate approved by voters since 2006 or (ii) the sum of the highest elected tax rate since 2007 and the district's current tax rate; and House Bill 32, which would make several changes to appraisal review board (ARB) processes, including provisions for ARB hearings, eligibility requirements for ARB embers and arbitrators, taxpayer notices and reporting requirements for appraisal districts and taxing units. HB 32 received preliminary approval by representatives with a handful of amendments regarding increased notices to taxpayers.
Local control and state spending limits
Currently, legislators may not increase appropriations from undedicated state revenue beyond the rate of growth of the state's economy. Senate Bill 9 by Sen. Kelly Hancock (R-North Richland Hills) would base the constitutional spending limit on average, or statewide population growth, and inflation. SB 9 was approved by the Senate and referred to the House Appropriations Committee.
Some school districts have expressed concern that bills raising teacher salaries are unfunded mandates that their limited budgets cannot support. House Joint Resolution 31 would address the issue of funding new requirements by making them unenforceable until the legislature provides appropriate additional funding outside of city revenue. HJR 31 was passed by the House State Affairs Committee and will now be sent to the full House for a vote.
As cities expand, residents on the acquired or annexed property must go through the municipal annexation process. Senate Bill 6would reform annexation by prescribing procedures to be followed by a municipality before annexing property, base on the size of the city. The bill was passed by the Senate and referred to the House Land & Resources Management Committee.
Senate Bill 13 would shorten the deadlines for approval of local building permit applications, so that permit seekers could reasonably expect an action within 30 days after applying.  SB 13 was approved on final passaged by Senators and sent to the lower chamber.
---
Legislative Alert: July 28, 2017  
Lawmakers returned to Austin July 18th for the first special session of the 85th Legislature. House members have focused on passing "sunset" legislation to extend the life of five state agencies, while the Senate has hurried to pass several bills addressing most of Governor Abbott's priorities.
Governor Greg Abbott set the agenda
Governor Greg Abbott identified 20 priorities for the upcoming special session. During the session lawmakers must file bills related to one of these priorities, but may interpret each item broadly. Governor Abbott's items include:
Sunset legislation to continue several key state agencies, including the Texas Medical Board.
Raising the average salary and benefits of Texas teachers.
Rollback elections for property tax increases.
Creating a statewide commission to study the current public school finance system, and recommend improvements.
School vouchers for special-needs students.
Spending caps on local governments.
Spending limits for political subdivisions of the state, including counties, cities and school districts.
Increased protections for private property owners from local ordinances.
Expediting permit processes in local governments.
Preventing new regulations on private property by political subdivisions.
Municipal annexation reform.
Preventing cities from passing their own texting-while-driving laws.
"Bathroom Bill" legislation, restricting use of public facilities to one's biological sex
Prohibiting state or local governments from deducting labor union dues from the wages of public employees.
Prohibiting state or local funding of abortion providers or affiliates.
Preventing health plans from covering abortions.
Increasing reporting of abortions and complications to the Department of State Health Services.
Enhancing patient protections for do-not-resuscitate (DNR) orders.
Enhancing penalties for mail-in voter fraud.
Expanding the Maternal Mortality and Morbidity Task Force in Texas.
Several of the governor's priorities could impact Richardson residents and businesses. Below are updates on the status of legislation that addresses the Richardson Chamber's legislative agenda.

Restricting transgenders' use of public facilities, including schools
Senators passed Senate Bill 3, more popularly known as the "bathroom bill," which would require that students use only restrooms in public facilities according to the gender on their birth certificate. During the regular session, a similar senate bill was never on the House floor due to opposition by Speaker Joe Straus and the lower chamber.  The House, instead, sent the Senate a school safety bill with an amendment by Rep. Paddie that would require schools to install gender neutral restrooms.
Numerous voices have spoke out against the discriminatory and harmful effects if SB 3 passes. Dallas CEO's, Texas investment groups and technology companies including Apple, Google, Facebook and Amazon have written to legislators and testified against the bathroom bills under consideration. See this helpful Texas Competes chart for a description and comparison of the different special session bills addressing Governor Abbott's item.
Tech Titans has also sent its own letter of opposition to representatives about the potential consequences for Texas, including an estimated loss of $5.6 billion from cancelled top-tier sporting events, reductions in tourism and losing the business of Fortune 500 companies that ban discrimination against the LGBT community. The bigger downside won't be felt for a few years after passage of such legislation, as major economic development opportunities will take Texas off the list for consideration.  These major projects take years to incubate before a public decision is announced. An Associated Press study found that the similar law in North Carolina cost their state more than $3.76 billion over two years. The study is likely an underestimate, as it only included projects that cited House Bill 2 in public records or interviews as a reason for pulling out.
Despite hours of testimony in opposition to the legislation, Senators formally approved SB 3 in a 21-10 vote. The bill will now head to the House, where Speaker Joe Straus is expected to counter with strong resistance.
Decreasing the rollback tax rate on local property taxes
Senators gave final passage to Senate Bill 1 for decreasing the rollback property tax rate. Currently, taxpayers can petition local governments to "rollback" property tax rates in cities and counties if property tax revenue grows by more than 8% in a given year in those same jurisdictions. SB 1 would trigger an automatic tax ratification election if the property tax collected exceeded 4 percent of the previous year's property tax revenues. Similar legislation failed to leave the House Ways and Means committee before a deadline during the regular session.
This week, the House Ways and Means Committee addressed several bills aimed at addressing property tax reform. House Bill 4would require voter approval to increase property tax revenues by 5 percent or more. Other bills would reform the appraisal process, limit increases in property tax rates and lower the maximum limits on appraised property values.
Cities have argued that lowering property tax rollback rates would have major negative impacts on local municipal and county budgets and services. Critics also argue that school property taxes form the bulk of local property tax rates and that the State has failed to properly finance its share of public education, thus leading to large local property tax bills.
Increases in teachers' salaries and benefits
Governor Abbott has called for a raise of $1,000 for Texas teachers, a request school districts have criticized as an unfunded mandate. Senators approved Senate Bill 19 on Wednesday, which originally required school districts to reprioritize funds to provide teachers with six to 10 years of experience with an annual bonus of $600, and teachers with more than 11 years of experience with $1,000 each year. School districts vehemently opposed the bill at the committee hearing, as it provided no new funds for schools to meet these requirements. While the version passed by the Senate does not require school districts to pay for the bonuses, the bill still does not promise additional state funding.
The Senate Education Committee left Senate Bill 97 and Senate Joint Resolution 1 pending at the meeting, which would dedicate state lottery revenue to teacher salary raises, bonuses and retirement benefits.
Limiting local control, local government spending and municipal annexation
Governor Abbott asked legislators to focus on multiple curbs on local control, including spending limits for local governments, prohibition of certain city ordinances and requiring voter approval for municipal annexation.
Senate Bill 8 would require a vote to raise municipal budgets faster than statewide population growth and inflation, with no exception for communities growing more rapidly than the average Texan city. The bill was approved by the Senate Select Committee on Government Reform but the Senate vote was postponed. Other bills limit the laws that cities may establish or enforce, such as Senate Bill 23 which would prohibit anti-discrimination laws and Senate Bill 15 striking down bans on texting-while-driving.
Governor Abbott has agreed to meet with 10 of the mayors who signed a joint letter imploring the governor to reconsider checks on local control. An invitation has not been extended to Texas' five largest cities yet.
---
Legislative update: End of Session Round-up: May 30, 2017  
The 85th Texas regular Legislative Session has come to an end, with marked uncertainty about a possible special session. Many legislators called this session unproductive with several priorities unaddressed, including the sunset safety net bill to keep several state agencies open.
Gov. Greg Abbott promised to announce whether he will call lawmakers back to Austin later this week. Only the Texas governor can call a special session, each lasting no more than 30 days.
Budget approved: how the final version addresses our agenda
The state's $216.8 billion budget for 2018-19 was signed into law over the weekend. Lawmakers proposed using both fiscal strategies debated earlier this session by tapping the Economic Stabilization Fund ("Rainy Day Fund") for $1 billion and delaying the transfer of $1.8 billion to the State Highway Fund until fiscal year 2019. The final version appropriates $106.7 billion in general revenue funds, $6.4 billion in general revenue-dedicated funds, $71.9 in federal funds and $31.8 billion from other sources. The budget is slightly increased from the 2016-17 appropriations, which totaled $216.4 billion.
Below is a comparison of how the negotiated terms in the final version of the budget address our legislative agenda.
Economic development and workforce
Chamber position: maintain funding for the Texas Enterprise Fund at a level that enables Texas to stay competitive with other states
The Texas Enterprise Fund (TEF) provides the governor with a "deal-closing" incentive to offer businesses who are considering moving their operations to Texas. Economic incentive packages make Texas more competitive and attract new or expanding businesses. The original version of the conference committee's budget did not support the fund, but Governor Abbott said the final version must include TEF funding. The final budget dedicates $86 million in unexpended funds to TEF during the next biennium, a decrease of $22 million from 2016-17.
Chamber position: continue funding the Governor's University Research Initiative with broader criteria for qualifying academics
The Governor's University Research Initiative (GURI) matches incentives packages offered by colleges and universities to attract Nobel Prize laureates and other distinguished researchers. While GURI provides an important way for schools to attract accomplished researchers, the criteria for a "distinguished researcher" restricts schools to academics who have already published their best work. Universities should pursue emerging scientists and engineers as well. The qualifications for eligible scientists were not amended during the 85th session, but the budget includes $15.6 million in additional funds to continue the program with $10 million in new general revenue funds and $5.6 million remaining after last year.
Chamber position: continue funding the Skills Development Fund
The Skills Development Fund provides local customized training opportunities for Texas businesses to increase skill levels and wages in their Texas workforce. The budget allocates $571.8 million to the fund, with much of that in grants provided to community colleges to develop customized training programs specific to business needs.
Higher education
State colleges and universities will receive $7.2 billion in general revenue funds, a decrease of $2.9 million, and $1.5 billion in dedicated funds, and increase of about $100 million primarily from tuition. The budget boosts formula funding for community colleges with an additional 28.8 million in general revenue funds.
Chamber position: increase funding for the Texas Research Incentive Program and the address the backlog of unmatched fund
The Texas Research Incentive Program (TRIP) matches private donations to public colleges and universities for research funding. Since its creation in 2009, the program has accrued a significant backlog of unmatched funds totaling $141 million. The Senate proposed funding TRIP at $131 million, slightly less than the previous biennium. House members proposed halving the allotment to $64.5 million. The final report allocates only $35 million to the TRIP fund, with no answer to how the growing backlog will be paid.
Chamber position: support the University of Texas at Dallas initiative Engineering for Life as a special item/em>
The state budget includes funding for "special items," or projects at colleges and universities that fall outside of traditional funding formulas. The Chamber supported the University of Texas at Dallas request for $8 million to expand the Engineering for Life project, which develops innovative medical technology for the healthcare community.
The Senate suggested eliminating special items, while House members proposed reductions to their funding and further study into abolishing them. In the negotiated proposal, $1.1 billion in special item funding given for 2016-17 was replaced by less than $1 billion in "non-formula support items" that do not include Engineering for Life. The budget also dictates that a joint committee must release a study on special item funding during the interim in 2018.
Public education
Chamber position: increase formula funding and weights to accurately reflect the cost of public education to meet higher standards
The Foundation School Program, which funds Texas public schools, received $38.1 billion in state funds from general revenue and property tax relief and $42.7 billion in all funds for state aid to school districts and charter schools. Net state funding was increased by $273.6 million, due to an estimated $1.4 billion increase in local property values and a decrease of $1.1 billion in general state revenue funds compared to the 2016-17 biennium. The new budget maintains the basic per-student allotment at $5,140, instead of increasing to $5,340 as proposed by the school finance reform bill HB 21.
Chamber position: provide funding for high-quality, full-day prekindergarten
The final budget diverts $1.58 billion from the Foundation School Program for half-day pre-K programs. The bill requires school districts to use at least 15 percent of this funding, $236 million, to implement high-quality pre-K programs. $1.52 billion in new funds was granted to schools for the 2016-17 school year to account for increased start-up costs and the high-quality standards required of all programs. Texas pre-K programs enroll at-risk three- and four-year-old children who struggle with English or come from an economically disadvantaged background.
Updates
Monday, May 29 was the final day for chambers to pass bills and send them to the governor's desk. Gov. Abbott has until 20 days after the end of the session to sign legislation into law, veto the proposals or allow the bill to become a law without signature.
Senate Bill 4, the sanctuary city law, has been signed into law. The polarizing bill is one of the strictest in the country. SB 4 allows peace officers to question detainees about their immigration status, establishes criminal charges for police chiefs who refuse to comply with deportation officers, and creates fines for cities who fail to cooperate with immigration officials.
House Bill 22, which would overhaul public school districts' A-F ratings, was approved by both House and Senate after going to conference committee, and so is headed to the governor. In the final version, HB22 would evaluate schools by three criteria: student achievement, such as the number of students taking advanced courses; student progress, including graduation rates; and closing the gaps, with an emphasis in each category on standardized state exams. Each school district will have its own letter grade. State education Commissioner Mike Morath will have the power to approve schools' own accountability systems, which could account for up to half of the overall grade.
Other accountability bills did not get final passage from the Legislature, including House Bill 515 and House Bill 1500. HB 515 would have reduced state assessments across public school districts, and HB 1500 would have added the percentage of students who earn an associate's degree to the metrics of public school performance as a fourth domain. House Bill 21 for major school finance reform, including raising the per-student allotment to $5,340, died in conference committee.
Senate Bill 22 for the establishment of Pathways in Technology Early College High School (P-TECH) progra
Legislative update: Week of March 31, 2017  
Budget bill moves to House, huge differences in chambers' proposals
The Senate voted unanimously to send Senate Bill 1, the upper chamber's appropriations bill, to the House Appropriations Committee, who sent their substituted version for deliberation and amendments by the lower chamber next week. The House budget proposes using $2.5 billion from the Economic Stabilization Fund (ESF), more widely known as the state's Rainy Day Fund, to balance their version. Senate budgets writers have proposed delaying the transfer of $2.5 billion until fiscal year 2020 from General Revenue, so that the transfer is not part of the 2018-19 budget. House Speaker Joe Straus is in favor of using the ESF, while Lieutenant Governor Dan Patrick has spoken against it. To tap into Texas' savings, two-thirds of both chambers must approve the withdrawal.
The Senate and House budgets, faced with less money at their discretion than previous years, contain significant differences according to their priorities. In the substituted version, the House committee cuts $1 billion in state funding for Medicaid, the federal-state insurance program that serves children, pregnant women and people with disabilities. With the cut, Texas would lose another $1.4 billion in federal funding. HB 1 would also add $1.5 billion to public schools if House Bill 21, the school finance bill, passes. The Senate's version would cut $1.8 billion from state education funding, making up the difference with local property taxes and additional revenue. In total, Senate Finance Chair Jane Nelson (R-Flower Mound) stated the budget would increase public school funding by $4.6 billion. The Senate is also pursuing cuts to franchise and property taxes.
Performance-based metrics and tuition freeze bills passed by committee
On Tuesday, the Senate Higher Education Committee approved Senate Bill 543 and Senate Bill 19, limiting tuition increases. SB 19 would freeze tuition rates and student fees for public colleges and universities at 2016-17 levels for four years. Since tuition deregulation in 2003, tuition costs in Texas have soared 147 percent, while the amount spent on instruction has increased only 65 percent. Such costs become prohibitive for young Texans and families at a time when most businesses complain of gaps in the available skilled workforce. SB 543 would require that higher ed institutions meet at least six out of eleven metrics before raising tuition beyond the rate of inflation. The eleven targets include the total number of undergraduate degrees awarded, degrees awarded to at-risk students, the average length of a student's enrollment and the four-year graduation rate of first-time, full-time undergraduates. If they meet performance standards, the bill would further limit the increase to 3 percent above rate of inflation. Halting tuition growth was one of Lieutenant Governor Dan Patrick's top priorities this session. Both SB 19 and SB 543 will now be sent to the full Senate for consideration.
Senators pass bills making some government contractors subject to Public Information laws
Senators approved Senate Bills 407 and 408 by Sen. Kirk Watson (D-Austin) on Monday. SB 407 would overturn the Texas Supreme Court case of Boeing v. Paxton, removing an exception to the Public Information Act (PIA) that allows businesses who contract with the state to withhold information that would provide an advantage to a competitor after the governmental body has awarded the contract. SB 408 would overturn Greater Houston Partnership v. Paxton by expending the definition of "governmental body" to include entities that receive funds to perform services traditionally provided by the government. SB 408 would subject businesses and chambers of commerce to the Public Information Act.
Transportation bill targeting high-speed rail, Cotton Belt, leaves committee
Texas metropolitan areas have become the destination for multiple high-speed rail projects in the past decade. The Texas Cotton Belt Corridor, scheduled to begin implementation in 2022, would extend from CityLine through Addison and Carrollton to DFW. Another project, driven by private investor Texas Central Partners, would connect Dallas and Houston by same high-speed bullet train used successfully in Tokyo and Osaka, Japan. Representatives of rural districts have filed numerous bills to derail these plans, particularly the ambitious Dallas-Houston project.
Senate Bill 385 by Sen. Konni Burton (R-Colleyville) would negatively impact these projects by requiring cities who would host the rail to approve the use of federal funds for rail construction by a public vote. At the Transportation Committee meeting, Former Richardson Mayor and current DART board member Gary Slagel testified against SB 385, as well as Mayor of Addison Todd Meier, as causing harm to North Texas cities and economic development by threatening the construction of the Cotton Belt Corridor.
Updates
Senate Bill 3, which establishes a school voucher program for parents from public education funds, was passed by the full Senate on Thursday.
A substituted version of House Bill 21, the public school finance bill, was approved by a vote of 10-1 in committee and sent to the House. HB 21 would reduce recapture by $400 million over the next biennium.
---
Legislative update: Week of March 24, 2017  
School voucher legislation leaves Senate committee
On Thursday, the Senate Education Committee approved Senate Bill 3 for the establishment of school voucher programs. SB 3 would create two programs: the Education Savings Account (ESA), a bank account for parents that contains taxpayer money for private school tuition and homeschooling supplies; and the Tax Credit Scholarship (TCS), providing tax credits to businesses that donate for private school tuition. Families earning above 200 percent of the guideline for reduced-price lunches would receive 60 percent of the state's average expense per student; lower income families would receive 75 percent. The Legislative Budget Board estimated a loss of $90 million to $330 million to Texas in 2019 based on the current proposal.
Supporters, including Rep. Van Taylor (R-Plano) and Sen. Don Huffines (R-Dallas), argued that the ESA would allow parents to personalize their children's education by providing funds for private education and home-schooling. They also claimed vouchers would hold public schools accountable by allowing parents to transfer out of schools they dislike.
Opponents contend that school voucher programs defund public schools. If five students leave a class for example, the teacher's salary and maintenance costs would not change, but the school's funding would decrease significantly. Advocates also warn that voucher programs have not been proven effective, citing studies and pilot programs that have not shown evidence of significantly changing student outcomes. Witnesses said legislators should strive instead to increase funding to public schools for improved quality.
SB 3 will now head to the full Senate, where it is expected to pass. With support from Texas Lieutenant Governor Dan Patrick and others, 31 states are considering related legislation. However, House Public Education Chairman Dan Huberty said last February that school choice legislation has "no path forward" in the House of Representatives.
Workforce development legislation heard in committees
House Bill 108 by Rep. Carol Alvarado (D-Houston), also known as the "Recruit Texas Act," would establish the Recruit Texas Program to support employers expanding or relating operations in Texas. Businesses would coordinate with junior and technical colleges to train hires. The program would focus on businesses that recruit high-skilled employees. The bill is co-authored by House Economic and Small Business Development Committee Chair Angie Chen Button. HB 108 was left pending in Rep. Button's committee on Thursday.
House Bill 595 by Rep. Paul Workman (R-Austin), which would provide a franchise tax credit of $1,000 per intern for businesses with an internship program, was also left pending in the House Ways & Means Committee on Wednesday.
Richardson Candidate Forum in April
The Richardson Chamber will host a Mayoral/City Council candidate forum for the contested races in the May election on April 18 at CityLink. This event is open to Chamber members only, and attendees must pre-register online. To register, see the event page.
Updates
The Senate Finance Committee unanimously voted out Senate appropriation bill Senate Bill 1. The appropriations bill is the only bill that Texas legislators must pass before the end of the session. The revised bill provides $106.3 billion in general revenue, an increase of $2.7 billion from the original proposal. Instead of dipping into the Rainy Day Fund as has been proposed by House budget writers and the Speaker, SB 1 delays transfer of $2.5 billion in transportation funding until the next fiscal biennium in September 2019, but includes the funds in the 2017-18 budget. While some have questioned this budgeting maneuver, the full Senate is expected to vote on SB 1 next week.
On Tuesday, the full Senate passed Senate Bill 2 for property tax rate reduction on third reading with a vote of 18-12. The bill, which would trigger automatic tax ratification elections if local property tax revenue grows by at least five percent, has been sent to the House for review.
Senate Bill 17 also passed by 23-7 vote and was sent to the House on Tuesday. The proposed version would permanently dedicate half of general revenue funds above five percent growth to franchise tax relief. SB 17 allows for the franchise tax rate to become zero percent, or to be eliminated, if state revenue is sufficient.
Senate Bill 22 for the establishment of Pathways in Technology Early College High School (P-TECH) was approved by the Senate Education committee unanimously on Monday. SB 1 includes $5 million for P-TECH programs.
Dozens of businesses and trade and sports organizations have reached out to Texas legislators opposing Senate Bill 6, also known as the Bathroom Bill. Tourism officials have estimated a minimum loss of $407 million in Austin, Dallas, Houston and San Antonio if the bill passes.
---
Legislative update: Week of March 17, 2017  
Chamber President Bill Sproull discusses March 2017 legislative update
President Bill Sproull talks about movement in the Texas Legislative session. Topics include: budget, the Bathroom Bill, property taxes, franchise fees, and school financing. Click image to view video online.
U.S. Congressman Pete Sessions visits Richardson
On Saturday, U.S. Congressman Pete Sessions (TX-32) will be hosting a town hall meeting in Richardson to discuss important issues facing our communities, state, and nation as a whole. The Congressman will provide a legislative update and discuss his current efforts to reform our nation's healthcare system, secure the borders, and fuel job creation in Texas. The meeting will be March 18th at 12:30 p.m. in Richardson High School, 1250 Belt Line Road (Beltline & N. Garland).
Senate Finance Committee approves local property tax rate bill after heated hearing
On Tuesday the Senate Finance Committee heard more than six hours of testimony on Senate Bill 2, the property tax reform bill filed by Sen. Paul Bettencourt (R-Houston). Senator Jane Nelson (R-Flower Mound), chair of the Senate Finance Committee, remarked at the meeting, "This is a tough crowd." Opponents, including Sen. Royce West (D-Dallas), criticized the bill for failing to address significant changes in how the state pays for education. Local governments also condemned the bill as undermining local control and hindering cities' ability to budget and fund city services such as police and fire departments.
Currently, if property taxes rise more than 8 percent, citizens can petition the city government for an election contesting the increase. As proposed, SB 2 would trigger an automatic election whenever the revenue a city receives from property taxes rises more than 4 percent. The increase does not depend on the set property tax rate; instead, the election could be triggered solely by increased property appraisal values.
At the hearing 34 witnesses registered as supporting SB 2, while nearly 100 individuals and organizations, including Mayor Paul Voelker of Richardson, testified in opposition. The Finance Committee eventually passed an amended version of SB 2 with a 9-to-5 vote. SB 2 will now go to the Senate to be heard.
Senate Finance Committee recommends cuts to university funding in state budget
On Wednesday the Senate Finance Committee voted to redesign university funding so that losses are distributed more evenly among state higher ed institutions. The original budget recommended reductions of more than half among some small Texas colleges and increased funding for larger universities such as Texas A&M. In the adopted version, universities would lose 6 to 10 percent of state funding overall compared to last session.
Part of the decrease results from removing funding for special projects at universities, which accounted for $1.1 billion of higher ed funding in 2015. A portion of those funds, $700 million, would be added back into the schools' formula funding to account for enrollment growth. The House budget includes approximately $1 billion in special items for universities.
The changes were approved unanimously, albeit reluctantly by some senators. "A lot of people are going to be unhappy," said Sen. Larry Taylor (R-Friendswood), chair of the Education Committee and a member of the Higher Education Committee. "No one is going to be ecstatic. But given the numbers we are dealing with, I think we turned out pretty well."
Rep. Angie Chen Button files bills supporting emerging researchers, research commercialization
Rep. Angie Chen Button (R-Richardson) has filed several bills that expand current state economic development incentives to including support for commercialization of intellectual property, leverage private donors for university research, and establish a broader definition of researchers who qualify for matching funds under the Governor's University Research Initiative (GURI).
House Bill 3245 broadens the definition of "distinguished researchers" who qualify for GURI awards, which match funds offered by universities to attract talent. In its current form, GURI narrowly defines distinguished researchers as Nobel Laureates or members of the National Academy of Science, National Academy of Engineering, or National Academy of Medicine. HB 3245 would include recipients with 'equivalent' honors, members of 'equivalent' honorific organizations or other national societies, and principal investigators (PIs, heads of laboratories) who oversee substantially funding, long-term research projects (i.e., $1 million in annual expenditures for at least three years).
House Bill 3260 would also expand GURI to fund university research with financial support from the private sector. Specifically, HB 3260 would allow GURI to supplement funding for projects aimed at commercialization of intellectual property discovered at that institution. The grant must equal less than half of the total investment in the project, which must be contributed by one or more private entities and the university.
House Bill 3160 would enable the Texas Enterprise Fund (TEF) to support commercialization of property developed by university researchers as well. To qualify, the project must also receive funding from the private sector in addition to their public or private higher ed institution. The award must be less than half of total investment. House Bill 3364, would further allow TEF to reimburse up to 15 percent of expenses related to the grant.
The Texas Economic Development Act (TEDA) allows school districts to offer temporary limitations on property taxes to encourage new investments locally. House Bill 3176 would require members of a school's board of trustees to disclose any conflict of interest with a TEDA applicant, and would prohibit those members from participating in the board's deliberations.
Updates
Senators passed Senate Bill 6, the controversial Bathroom Bill, with a majority vote of 21-10. Two amendments were adopted with the following provisions: private companies that lease public school buildings are not subject to the law; state agencies may not consider a private company's bathroom designations when adopting a contract; and citizens must file an affidavit to complain about violations. The bill will now be referred to a House committee.
Next Tuesday, the Senate Education Committee will consider Senate Bill 3, which creates a scholarship fund for private school vouchers.
---
Legislative update: Week of March 10, 2017  
By 6 p.m. tonight (Friday), all House and Senate bills must be filed. A suspension of the rules to obtain permission to introduce the new bill will be required for any future emergency items. While preparing for this deadline, a Senate committee took up the controversial Bathroom Bill, while House Committees heard testimony on a major school finance reform bill and legislation on career & technology courses.
Committee hears testimony on major school finance reform bill
On Monday, House Public Education Committee Chairman Dan Huberty (R-Houston) filed House Bill 21 to introduce major changes to school finance. If no changes are made, the state's share of public school funding will decrease to 39% in 2019, compared to 49% ten years ago. With top-down reforms requested in the Supreme Court ruling a remote possibility, an increase to the basic allotment has been pursued.
HB 21 would add $1.6 billion during the next biennium; increase the basic allotment by $210 per student from $5,140 to $5,350; roll both high school allotment and additional state aid for non-professional staff into the basic allotment; create new transportation funding for recapture districts; lower recapture by approximately $163 million in 2018 and $192 million in 2019; create a hardship grant capped at $100 million per year to assist districts that will lose funds once the Additional State Aid for Tax Reduction (ASATR) expires; add 0.1 weight for students with dyslexia; and repeal Hold Harmless funding for certain districts, which supplements revenue that is lost when property tax revenue decreases.
Funding for HB 21 is included as a budget rider in the current version of House Bill 1, the House appropriations bill. In its proposed form, HB 21 provides additional funding for 95% of school districts compared to current law. At the committee hearing, the Legislative Budget Board estimated that the bill would increase funding for Richardson ISD maintenance and operations (M&O) by $8 million and for Dallas ISD by $34 million in 2018. After hearing recommendations, Chairman Huberty announced his intention to present a new version of the bill at next week's hearing on Tuesday, March 14. At that time, HB 21 could be taken up for a vote.
Controversial Bathroom Bill scheduled for Senate floor
Senate Bill 6, as known as the "Bathroom Bill" or "Texas Privacy Act" filed by Sen. Lois Kolkhorst (R-Brenham) and spearheaded by Lieutenant Governor Dan Patrick, was passed out of The Senate State Affairs Committee with a vote of 7-1 after 18 hours of testimony. Sen. Judith Zaffirini was the only dissenter. 1,599 witnesses at the meeting registered opposition, while 241 registered support. The bill now moves for a hearing by the entire Senate floor, which has been scheduled for Monday, March 13. Supporters emphasize that SB 6 would apply to public schools and government facilities, not private businesses, and argue that Texas would suffer no economic consequences. Opponents argue that the bill would devastate the Texas economy and expose public schools, cities and other government entities to litigation and liability, as well as enhance discrimination against the transgender community.
Lieutenant Gov. Patrick said on Tuesday that the Senate, with 20 endorsing senators, is set to take up the bill on Senate. Under Senate rules, 19 senators are needed to bring up a bill before the full Senate for a vote. If a Senate majority passes the bill and SB 6 moves to the House, Speaker Joe Straus stated on Tuesday, "Clearly, I'm not a fan of the bill," and urged Governor Abbott to weigh in.
Public Ed Committee hears computer science bill, left pending
The House Public Education Committee also discussed House Bill 395 by Rep. Cecil Bell Jr. (R-Magnolia), which would add advanced technology applications to the high school career and technology education allotment for high school students, currently weighted at 1.35 per student. HB 395 would also provide $50 for each student or completes two or more technology applications courses, which include science courses, digital forensics, discrete mathematics and robotics courses. Those in support included our Tech Titans' partner, CompTIA. There was no opposition. HB 395 was left pending in committee.
Next week
The Senate Finance Committee will consider Senate Bill 2 on property tax reform on Tuesday, March 14 at 9 a.m. See the broadcast.
The House Appropriations Committee will consider Article III, funding for public and higher ed in the appropriations bill, on Monday, March 13 at 7:30 a.m. See the broadcast (live, archive).
---
Legislative update: Week of March 3, 2017  
With only one more week to file bills, the Texas Senate and House of Representatives have filed more than 5,000 bills since last November for this legislative session. This week we catch up with some action in the legislature and find the Richardson Chamber of Commerce delegates in Austin.
Richardson community travels to Austin to learn about and advocate on key legislation, DC is next
The Richardson Chamber partnered with Tech Titans this week to visit the Capitol, meet legislators and hear from policy experts. On Tuesday, delegates met at the Capitol for briefings by experts such as Dale Craymer, President of the Texas Taxpayers & Research Associate, followed by the Delegation Dinner at Carmelo's with featured speaker Harvey Kronberg of the Quorum Report. On Wednesday, Senator Van Taylor and Representatives Angie Button, Linda Koop and Jeff Leach hosted the Breakfast Reception at the Capitol, followed by briefings on public and higher education, the Texas 60x30 plan, economic development, ethics reform, etc. Our team then met with chairs of committees and other elected officials until the Delegation Lunch featuring Holly Reed of Central Texas Partners on their proposed high speed rail line between Dallas & Houston.
The Chamber's next legislative trip will be to Washington DC, April 2-5, 2017 for our Federal Policy Conference and Tour.
Ethics reform bill breezes through Senate
Senate Bill 14, the comprehensive ethics reform package by Senator Van Taylor (R-Plano), passed unanimously in the Texas Senate as the first bill the Senate approved this session. Sen. Taylor said, "Historic ethics reform is usually the result of major scandal. Thankfully, that is not the reason we passed SB 14 today. The ethics reform package…is unique in that it was born out of leadership."
Ejects politicians who have been convicted of a felony from all statewide offices, and further prohibits them from receiving taxpayer-funded pensions in prison;
Requires elected officials and candidates to disclose government contracts, bond counsel and legal referral fees;
Reduces the meals-reporting threshold for lobbyists from 60% of per diem ($190) to 30% ($80), requires lobbyists to report spending on immediate family members of legislative or executive branch members, and ends the practice of "ticket splitting," in which multiple lobbyists collaborate to cover an expenditure above the reporting threshold;
Prohibits elected officials from registering as lobbyists, establishes a "cooling off" period of one full legislative session (at least 2 years) before members of the Legislature may become lobbyists with a concurrent two-year freeze of their campaign accounts before lobbying.
SB 14 will now be assigned a House Committee to be heard. If the House committee approves, the Texas House of Representatives will be able to vote on the bill.
Establishing P-TECH programs in Texas
Senator Larry Taylor (R-Friendswood) has filed Senate Bill 22 to establish P-TECH programs in Texas in place of the current tech-prep program. The Pathways in Technology Early College High School, or P-TECH model was developed as a workforce initiative to guide high school students directly into fields that need more qualified applicants, such as science, technology, engineering and technology (STEM) industries. An outline of P-TECH includes completion of a high school diploma followed by an Associate degree, postsecondary certificate or industry certification, combined with work-based training that prepares students for their chosen industry. The program can span up to six years so that students are fully equipped for the academic, technical and workplace skills necessary to succeed as an asset to those companies. Currently, Seagoville High School of Dallas ISD has the only pilot class of P-TECH students who began August of last year. SB 22 was heard by the Senate Education committee last week. Rep. Eddie Lucio II (D-Brownsville) filed an identical bill HB 1237, as did Rep. Helen Giddings (D-Dallas) with HB 1842, which was sent to the House Public Education Committee chaired by the house bill's co-author Rep. Dan Huberty (R-Houston).
Property tax reform bill debate heats up next week in Senate Finance Committee
Lieutenant Governor Dan Patrick has made property tax reform as one of his top priorities, naming Senate Bill 2 the Texas Property Texas Reform and Relief Act of 2017. Currently, taxpayers can petition local governments to "rollback" property tax rates in cities and counties if property tax revenue grows by more than 8% in a given year in those same jurisdictions. Among other effects, SB2 would:
Lower the rollback tax rate from the current 8% to 4%, and require automatic elections on general election dates for cities and counties to adopt tax rates above 4%;
Require all appraisal districts to use appraisal manuals issued by the Texas Comptroller;
Set May 15 as the filing deadline for all property tax protests, establish elected appraisal review board (ARB) panels in large counties to hear more complex protests, and require only a majority (no longer unanimous) vote of ARB panels for binding decisions; and
Prohibit local governments from challenging the value of an entire class of properties.
Critics argue that lower property tax rollback rates would have major negative impacts on local city and county budgets and services, given Texas population growth. They also argue that school property taxes form the bulk of local property tax rates and that the State has failed to properly finance its share of public education, thus leading to large local property tax bills. They also believe that local tax rates are a matter of local control, and that the bill interferes with this right and tradition. SB 2 was referred to the Senate Finance Committee, where it will be heard next week.
Full-day pre-K for four-year-olds and at-risk toddlers
Sen. Judith Zaffirini (D-Laredo) and Rep. Mary Gonzalez (D-Clint) have filed identical bills to provide free full-day prekindergarten classes for all children at least four years old and expand care to at-risk three-year-old children. Senate Bill 35 has been referred to the Senate Education Committee, and House Bill 196 has been referred to the House Public Education Committee.
Both Senate and House state budget bills in development
Both the House and Senate have released initial budget proposals for the 2018-2019 biennium, House Bill 1 and Senate Bill 1. The House proposal provides for $221.4 billion overall and $108.9 in general revenue (GR) funds, while the Senate recommends $213.4 billion overall and $103.6 billion in GR funds. General revenue (GR) does not include federal funding and dedicated funding required by Texas law. The Senate's recommendation for GR funding falls just below the Comptroller's conservative estimate for the next biennium, while the House's budget exceeds it. Differences in education funding stand out among other variations in their proposals. The House Appropriations Committee recommended $1.5 billion more than the Senate, with additional funding dependent on passing school finance legislation that would increase the state's share of the Foundation School Program. Both the Senate Finance Committee and House Appropriations Committee will begin making decisions on the elements of HB 1 and SB 1 in the upcoming weeks.