Connect with Women in Leadership
2021 Women in Leadership Tri-chairs: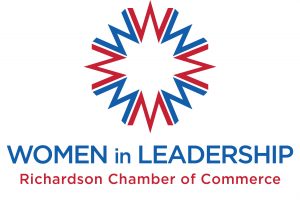 The mission of Women in Leadership is to inspire, influence and champion women as they grow into their roles as business leaders in our community.
2021 Theme: Reimagine
As our professional and personal lives have been up-ended in the last year, we remember things as they used to be, we rethink how to lead in times of change, we recreate how to plan for the future, and we rejuvenate as we celebrate our successes.
Women in Leadership hosts events, open to the public, to give women a chance to develop their network and hear from leaders in business and the community. Check our calendar for all upcoming Chamber events.
Quarterly luncheons feature a keynote presentation aimed at building leaders
Women4Women events feature short presentations and small-group discussions on topics of professional improvement and empowerment
Women on the Go networking events are held in the evening and are designed to broaden business contacts
Serving on a committee is one of your strongest relationship building tools, working side-by-side with other business leaders. Chamber members can join the Women in Leadership committee, which plans events and activities that benefit the service, educational and networking goals of the committee. Your involvement makes a difference!
Committee meetings are held 3rd Wednesdays at 8 am.  If you're interested in joining, fill out the volunteer form.
If you're interested in sponsoring Women in Leadership, please contact us.
Take a look at our themes, topics and speakers from years past:
Charcuterie for the holidays
Instructor:
Laurie Garvie, executive director & CEO, Richardson Symphony Orchestra
Topic:
Rejuvenate your mind: Prepare for success in 2022
Speaker:
Catherine Monson, CEO, Propelled Brands