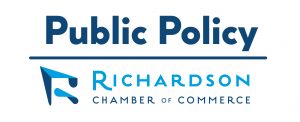 The Richardson Chamber develops its legislative agenda for each legislative session during Public Policy Briefings, which are meetings with subject matter experts that help our members stay informed. Past speakers include state legislators, U.S. Congressional representatives, Richardson ISD officials, City of Richardson City Manager, candidate forums, etc.
The Richardson Chamber also plans special events throughout the year to better inform members about important legislative issues.
For more information on meeting sponsorship or special event sponsorship, contact Molly Ulmer.
Richardson Chamber of Commerce 2023 Legislative Agenda
The Richardson Chamber represents more than 400 member organizations and is credited with bringing some of the world's largest corporations to North Texas and for helping brand Richardson as the Telecom Corridor. The Richardson Chamber has been awarded a 5-star accreditation by the U.S. Chamber of Commerce, which ranks the organization among the top chambers in the U.S., three consecutive times.  Priorities for the 88th Texas Legislature include:
Business Competitiveness
Support initiatives that maintain Texas' reputation as a business-friendly state.
Support reliable and sustainable infrastructure development, including the electric grid, domestic energy production, mobility, water resources and broadband.
Support the continuation of economic development tools, such as a reimagined Chapter 313, to ensure Texas leads the nation in competing for major, capital-intensive projects.
Local Government
Support preserving local governments' responsibility to establish appropriate means to adequately fund services and govern including establishing and maintain charters and ordinance making authority.
Support legislation that provides for enhanced local decision-making of local government including increasing the 3.5% revenue caps imposed on cities and counties.
Support legislation that blocks any attempt to limit or prohibit the authority of city, county, and school district officials to use public funds to communicate with legislators and state agencies, as well as pay membership dues to organizations that hire lobbyists.
Higher Education
Support funding enrollment growth and inflation through the academic formulas at Texas' higher education institutions.
Support increased investment in academic research initiatives such as the Texas Research Incentive Program and the National Research University Fund to develop more top research institutions in the state.
Establish an effective and sustainable system of investing in community colleges that builds off the work of the Texas Community College Finance Commission.
Continue investments in Small Business Development Centers and their professional business advising and training programs for small business owners, which are proven resources that strengthen the Texas economy and create/retain jobs.
Public Education
Support legislation that enhances school safety and security, particularly for mental health and trauma-informed counseling.
Support legislation that provides incentives to recruit and retain teachers.
Support legislation that provides increases in public school funding that correlates with inflation and maintains funding levels established by HB3.
Support maintaining funding for P-Tech and other early college and workforce readiness programs.
Healthcare
Support healthcare initiatives that provide access to quality services and adequate funding to meet the various needs of residents.
Support increased funding and support for Texans with a behavioral or mental health diagnosis.
Support legislation to enhance/increase the base Medicaid rates for hospitals.
Support legislation to increase the funding and education of chronic condition awareness prevention and treatment to decrease the overall burden placed upon taxpayers across the state.
For more information, contact Kim Quirk, president and CEO, 972-792-2809, kim@richardsonchamber.com
or Molly Ulmer, 972-792-2816, molly@richardsonchamber.com.