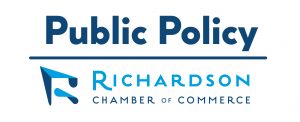 The Richardson Chamber develops its legislative agenda for each legislative session during Public Policy Briefings, which are meetings with subject matter experts that help our members stay informed. Past speakers include state legislators, U.S. Congressional representatives, Richardson ISD officials, City of Richardson City Manager, candidate forums, etc.
The Richardson Chamber also plans special events throughout the year to better inform members about important legislative issues.
For more information on meeting sponsorship or special event sponsorship, contact Kim Quirk.
Richardson Chamber of Commerce 2023 Legislative Agenda
The Richardson Chamber represents more than 400 member organizations and is credited with bringing some of the world's largest corporations to North Texas and for helping brand Richardson as the Telecom Corridor. The Richardson Chamber has been awarded a 5-star accreditation by the U.S. Chamber of Commerce, which ranks the organization among the top chambers in the U.S., three consecutive times.  
Click here to see a recap of how well the Texas 88th Legislature did regarding our priorities.
For more information, contact Kim Quirk, president and CEO, 972-792-2809, kim@richardsonchamber.com.